Your unique fairy creation could be featured at the farm's new Fairy Forest.
Clark's Elioak Farm is a favorite summer destination for kids of all ages. In addition to a petting zoo and farmer's market, the farm is home to the buildings from the old Enchanted Forest storybook park. This year, the park has added a new attraction—the Fairy Forest. To help outfit the forest with new houses for the fairies, the farm is holding a fairy house contest. The contest is open to all kids of all ages, and winners will be chosen from four different age groups. Builders have until July 11 to complete and submit a house for the contest.
The contest will have two main categories: a recycled fairy house and an all-natural fairy house. Both categories will require the builders to bring the houses to the farm for judging. A third category allows builders to submit a picture for a fairy house that you can leave at home. Each category will have a contest for four age brackets:
Age 5 and under
Age 6 to 10
Age 11-15
Age 16 and above, including adults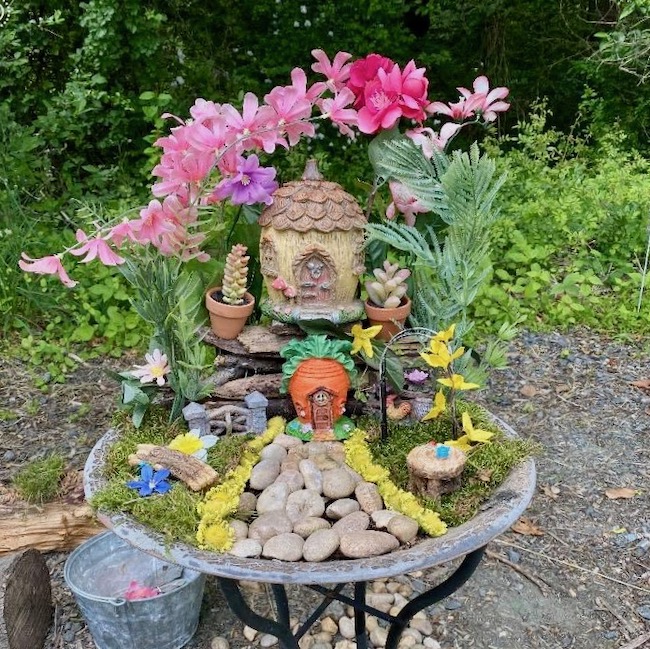 Courtesy Clark's Elioak Farm, Facebook
The winning houses will be on display at the farm through July and August. The all-natural fairy house must be constructed from items found in nature like rocks, sticks, shells, etc. The recycled house can be made from anything around the house or recycle bin—no pre-made fairy houses are allowed. More details on the rules of the contest are on the Clark's Elioak Farm website. Winners have the choice of leaving their house on display or taking it home.
Clark's Elioak Farm has opened for the season and is using an online ticketing program and will use timed entry for the farm and the market. Anyone over age 7 must wear a mask, and visitors are encouraged to adhere to social distancing guidelines set by the CDC.