People are really going all out this year, and you don't want to miss it!
Holiday 2020 has brought out the best in people, as we rally around each other to make the season bright, including some local families that really put the bright in "merry and bright!"
Check out a few favorites in the Centennial, Lone Tree, and Highlands Ranch area. The key to seeing these houses is to bundle up, grab some hot cocoa, and be ready for some good old-fashioned fa-la-la-la-la fun!
6636 S. Lafayette St., Centennial, Sticker's Winter Wonderland
This extravaganza is definitely a hit with kids and those young at heart. References to The Grinch Who Stole Christmas, Santa, and more, all come to life with thousands of lights and animation. It's particularly a favorite of kids and families but really is just full of holly jolly holiday fun. Check out our interview with the family behind Stricker's Winter Wonderland!
Bonus: just a few blocks north on Lafayette, another neighbor has created quite a display with inflatables, and more. Definitely worth driving the extra to check it out.
10084 Heatherwood Ct., Highlands Ranch
It's lights, music, action at this fun display. Lights around the yard are timed to a variety of songs, most Christmas-related. But, in the mix is a really cool light show that times the lights to Star Wars songs, including a light reenactment of a lightsaber battle.
10221 Fairgate Way, Highlands Ranch, Hazard's Gingerbread House
Just down the street from the Heatherwood Ct. is the Gingerbread House, arguably one of the most intricately decorated houses on the list. From tip to top, this wonder is lit up in classic holiday style and colors. It doesn't seem there's a spot that doesn't have a light on it somewhere.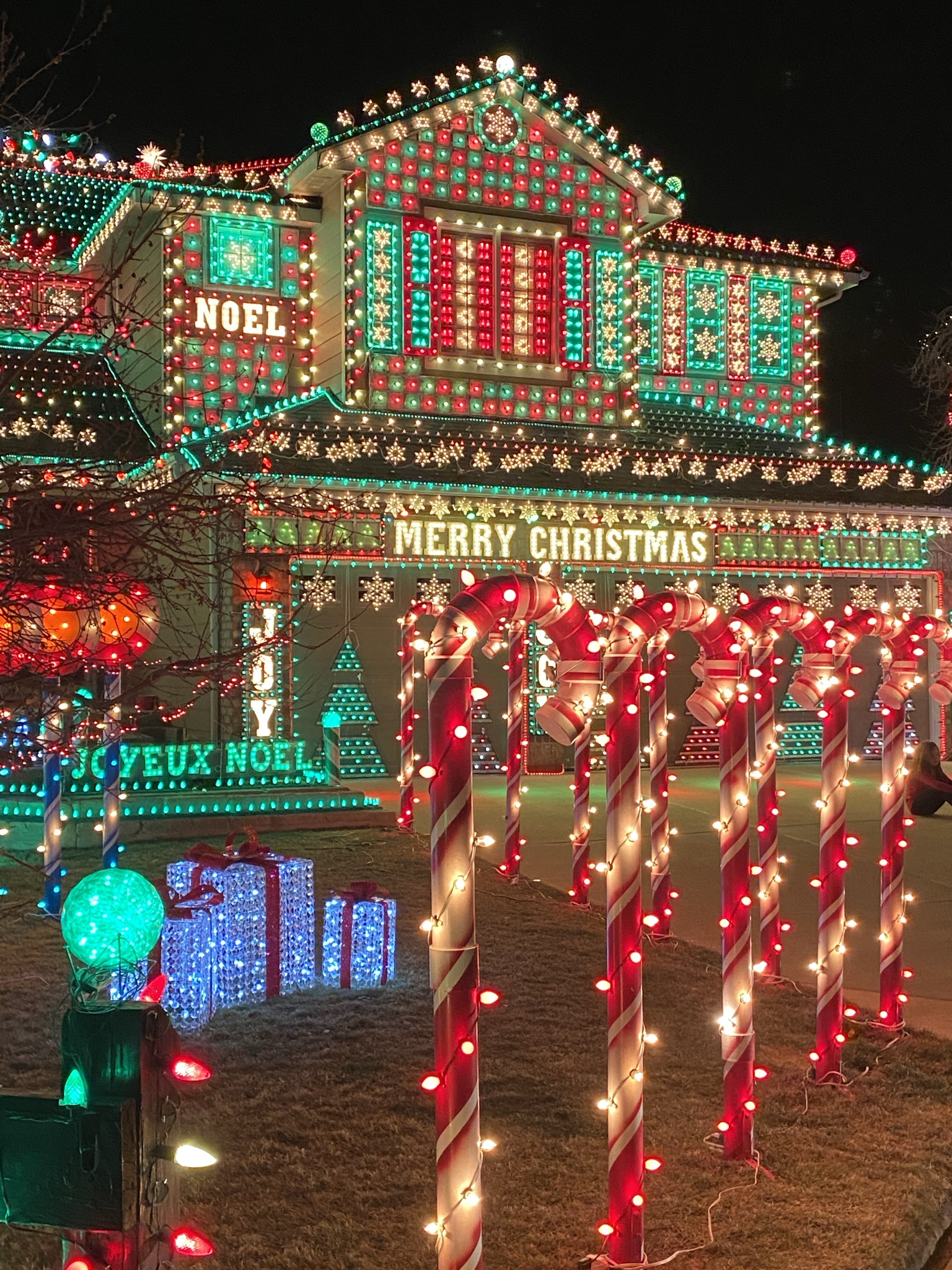 Bonus: The entire neighborhood for several blocks around the "Star Wars House" and the Gingerbread House is decorated and lit up. Many of the neighbors have gone above and beyond just stringing a few lights, so take a little extra time to just drive around.
10252 Bentwood Circle, Highlands Ranch, Miracle on Bentwood
It's an inflatable extravaganza at this house, that is a treat for the eyes. Another display that kids will love, and right near the others on this list.
Bonus: Head over to 10275 Bentwood Court for a candy cane dancing light show.
Meyerwood Circle off of Wildcat Pkwy (near Thunder Ridge HS)
The whole neighborhood is worth a drive-through. Some houses have lights set to music, and some have just made beautiful displays. No matter, it's holiday light central and definitely worth a trip, particularly as it's close to others on the list.
881 Altair Drive 80124, Littleton, The Pirate Ship House
Ho, Ho, Ho ... and a bottle of rum! This funhouse adds a new take on the holiday season with a high-seas holiday theme. Both originally recorded songs, as well as traditional holiday tunes, can be enjoyed through a radio station set to the display.
This is literally just a handful of houses that have decorated and are welcoming visitors. Check out well over 20 other houses the Highlands Ranch Community Association map has located in the Highlands Ranch area.
Do you have any houses that you can add to our list? Let us know in the comments!