As Hampton Roads braces for Hurricane Florence, don't worry -- your pets can stay safe.
As "monstrous" Hurricane Florence poises to unleash fierce winds and life-threatening storm surge conditions later this week, coastal Virginia residents are thinking about their safety. Thankfully, a few Norfolk organizations are also thinking about your pets ... If you have a sweet puppy or adventurous kitty who needs to stay safe during the hurricane, your furry friend can take refuge at either of these two pet-friendly shelters open this week.
On Monday, Norfolk's Berkley Community Center and Bayview Recreation Center announced that they'll be opening pet-friendly shelters for the duration of the storm.
Both shelters opened at noon on Wednesday.
Norfolk's pet-friendly shelters will welcome household pets only, including dogs, cats, rabbits, birds, turtles, and rodents. All pets should be able to travel in commercial carriers. The city website says that "household pets" do not include amphibians, fish, reptiles (except turtles), farm animals, and spiders or arachnids.
If you're bringing your pet with you to a shelter during the hurricane, officials say you should prepare just like you're taking your pet on vacation. Bring your normal pet supplies, including a leash, a collar, any necessary medication, food for your pet, a crate and bedding for sleeping, food and water bowls, a litterbox if applicable, and a photo of you with your pet for identification.
Pets and emotional support animals will not be permitted at other hurricane shelters in the Norfolk City limits, the Norfolk Emergency Preparedness website reports. Service animals, however, will be welcome at all locations.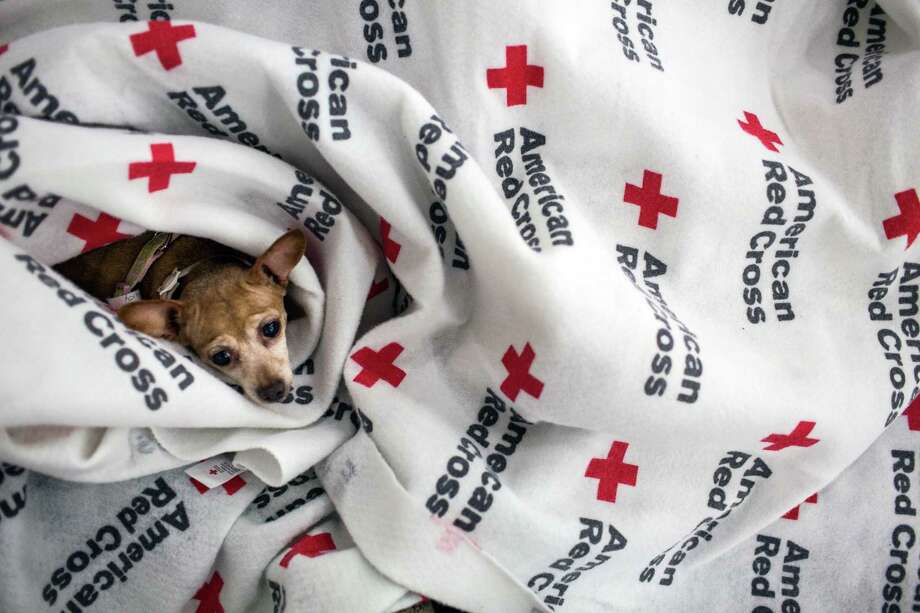 Courtesy of the Tamir Kalifa/NYT (Note: The American Red Cross does not currently allow pets at most shelters.)
Pet owners are strongly advised to find out which shelters allow pets in advance, as most shelters do not accommodate animals during hurricanes, and hotels are not legally obligated to admit guests with pets during a storm.
To keep your pet safe during Hurricane Florence, the ASPCA recommends assembling a pet emergency preparedness kit including survival supplies for your furry friend, emergency food, an extra crate, collars, medication, and IDs.
The Norfolk Division of Emergency Management advises city pet owners on how to prepare if you're bringing your pet to a hurricane shelter this week:
Pet-Friendly Shelter Preparation Tips
Plan for your pet well in advance if you live in an evacuation area. Write down your plan or create a checklist.
Take your pet when you evacuate. Know your evacuation route and when you will evacuate.
Ask friends or family living outside of evacuation areas if they can keep your pet.
Make sure you have a collar and leash for keeping your pet under control.
Keep a pet carrier (portable kennel) for each pet – one that allows your pet to stand and turn around. The carrier should be marked with your pet's identification.
Make sure all your pet's vaccinations are current and have proof available of its current city issued tag and rabies vaccination.
Pack supplies for your pet including current veterinary records, a two-week supply of food and water, medications with instructions, bowls, favorite toy and blanket, cat litter/pan, plastic bags, collar/leash, disinfectants to handle pet wastes, and a current photo of you with your pet.
If you must use a kennel as a last resort, make sure it is not in an evacuation zone and reserve space as soon as possible. Kennels require proof of vaccinations.
Make sure your pet has proper identification with either a collar tag or a microchip implant.
Have proof of current rabies vaccination available. A license is your pet's ticket home.
For more information about pet-friendly shelters in Norfolk, visit the City of Norfolk Pet-Friendly Shelters website. You can also research other pet-friendly shelter locations outside the City of Norfolk with this list compiled by Channel 13 News. Stay safe, 757.
Share Your Thoughts: A surprising number of Americans say they would not evacuate a hurricane without their pet, even if their own lives are in danger. A study by the UC Berkley Animal Welfare Training Institute found that 44 percent of people who refused to evacuate during Hurricane Katrina did so in part because they did not want to leave their animals behind. Would you evacuate a storm without your pet? Let us know in the comments.
You don't HAVE to evacuate, even though it's highly recommended. Don't let anyone in a neon vest tell you what you have to do. Here's why.