From Stache Passion to Clown Dating, there's sure to be a dating site for whatever niche group you're a part of. The internet is a beautiful place.
Dating sites are great, right? They expose the most interesting side of humanity. But, unfortunately, they really do expose the most interesting side of humanity.
Are you tired of Tinder? Do you have one really specific interest, and only want to date people who share it?
Look no further: just hop over to one of these really, really weird dating sites.
1. GlutenFree Singles

"GlutenFreeSingles serves as an online dating site to connect gluten-free people. Our mission is to help singles around the world find a GF partner and develop Let GlutenFreeSingles find your partner for life!"
2. Sea Captain Date
"Sea Captain Date is the internet's number one dating site for Sea Captains who wish to connect with men and women (on land and on sea.) With thousands of Sea Captains already online, there's no doubt that SeaCaptainDate.com is the first port of call for anyone searching for romance on the seven seas and beyond."
3. HerpesFish.com
Meet People with Herpes at HerpesFish.com -- the secure herpes dating service for people with herpes. Here you can meet 650,000+ Herpes Singles, and meet new friends, partners, potential spouses, or intimate connections. Connect with millions of quality members now!"
4. Amish Dating
"Get in touch with devoted, diligent, and caring singles from the Amish community! Register for free and get instant access to Amish singles near you. Find fascinating dates in just a few clicks and start enjoying the simple life."
5. Hot Sauce Passions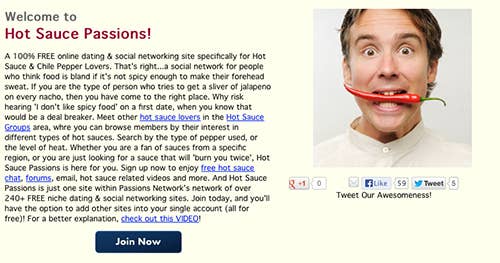 "If you're the type of person who tries to get a sliver of jalapeno on every nacho, then you have come to the right place. Why risk hearing 'I don't like spicy food' on a first date, when you know that would be a dealbreaker. Meet other hot sauce lovers in the Hot Sauce Groups area, where you can browse members by their interest in different types of hot sauces. Search by the type of pepper used, or the level of heat. Whether you are a fan of sauces from a specific region, or you are just looking for a sauce that will 'burn you twice', Hot Sauce Passions is here for you."
6. Miss Travel
"Travel the world for free! Female members are able to message within our client cost-free. MissTravel.com is the #1 dating site for connecting travel-seeking singles. Sign up for free today."
7. MarryMe Already
"MarryMe Already is a website designed to make finding your spouse easy and enjoyable. Ladies, simply start by uploading your free profile. Once your profile has been created, you will be visible to gentlemen looking for a future bride. It could be you! This is not a dating site! So, you can be sure that all members have full intentions of a long-term commitment with their future spouse."
8. Farmers Only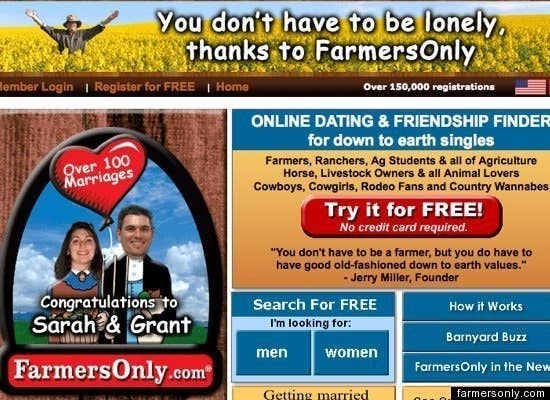 "Sign up for free to find a farmer, rancher, cowboy, cowgirl, or animal lover here at Farmersonly.com, an online dating site meant for down-to-earth folks only."
9. Equestrian Cupid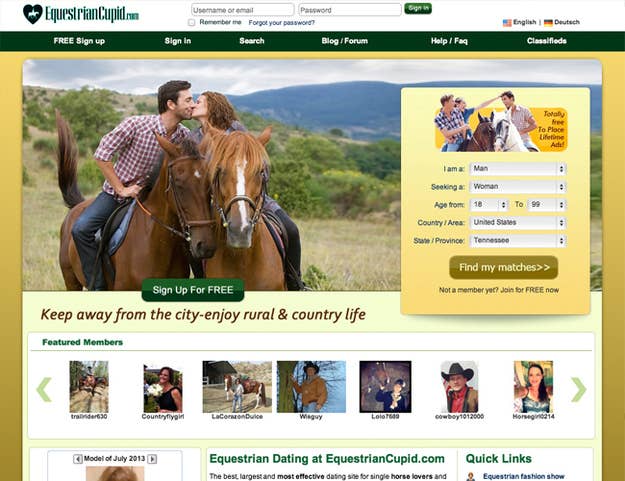 "EquestrianCupid is an exclusive community for cowboys, cowgirls, and equestrian singles to meet horseback riding enthusiasts, discover uncharted trails, pursue the country lifestyle, and locate the best riding areas. Don't live in the country or own a horse? No problem. The only main criteria is having down-to-earth country values and a desire to meet other like-minded folks."
10. Clown Dating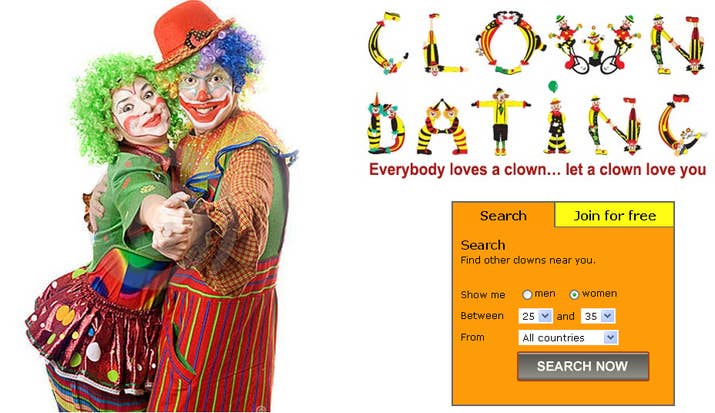 "It's no fun looking for love when behind the make-up and red nose lies a lonely heart. Luckily, Clown Dating is here to help. If you are a clown, a clown wannabe, or just a clown lover, you've come to the right place."
11. Tall Friends

"The best, largest, and most effective tall dating site in the world. This is the best place for looking for tall dating, relationships, or marriage. Here you can mingle with tall-minded singles, tall beautiful women, tall handsome men, and tall people admirers everywhere."
12. WealthyMen.com
"Find and meet wealthy men and beautiful women at WealthyMen.com. Discover rich, successful singles making over $500k for love and dating today."
13. Stache Passions
"It's all about the stache. Stache Passions is a 100% free social networking & online dating site specifically for singles with a passion for the Stache. Stache style is a difficult thing to pin down, but there is no doubt among Stache Passions members that there is nothing finer than a good stache.
Browse the Mustache Groups to find members by their preferred type of stache, whether it be Dali, Walrus or Pencil. Meet other Stache lovers by experience level and interest type for every stache lover out there. Stache Passions provides an open environment where mustache wearers can revel in the sitewide love bestowed upon them by a community of stache aficionados. Find your stache passion today."
Isn't the internet a beautiful place?
Get out there. Date a sea captain. And may all your dreams come true.
Which dating site is your favorite? Let us know in the comments.