The three-bedroom, two-bath historic home at 1118 Crozet Avenue is definitely not haunted, Elizabeth Ferrall and her realtor, Adam Holbrook, want you to know.
Virginia resident Elizabeth Ferrall is a specialist in the little-known art of ghost-removal.
But she had nothing to do with the sign that appeared on the lawn of her Crozet rental property one day.
"For Rent," the sign read. "NOT HAUNTED."
Ferrall's realtor, Adam Holbrook of Nest Realty Group, was allegedly responsible. Holbrook is managing 1118 Crozet Avenue, a historic home built in 1905, and is on the lookout for tenants. Admittedly, Holbrook says he hoped the sign would attract attention to an otherwise older property.
He wasn't aware that Ferrall, the property owner, would be the last person to put a haunted house on the market. Not that she doesn't believe in them.
Actually, Ferrall specializes in making sure houses are not haunted before they're put up for sale -- which is apparently a big thing in the real estate industry. Ferrall says she's performed "energy clearings" on more than 100 homes, in order to assuage property owners' or buyers' anxieties about "lingering spirits."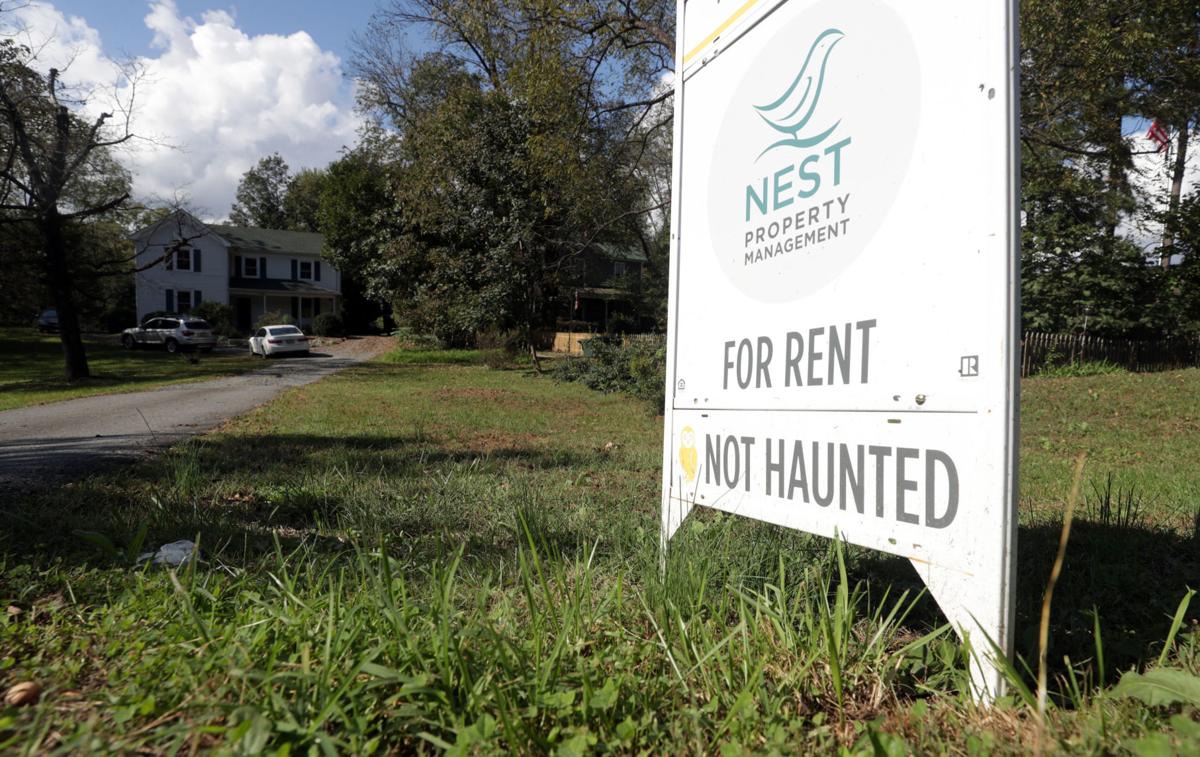 Nest Realty's sign at Ferrall's 1118 Crozet Ave. property. (Image Courtesy of Andrew Shurtleff/Daily Progress)
Ferrall holds a certification in "elemental energy clearing" from the International Institute of Interior Alignment School of Feng Shui & Space Clearing. The energy clearing process "uses 'ancient and native' ceremonies to shift and change the energy felt in a home or office, whether ... from energy left behind by previous occupants, or ... generated by spirits, ghosts, or other astral beings," according to the institute's website.
When Ferrall saw the sign her realtor had placed at her property, she said she was amused and slightly reflective.
"Do I have some sort of professional responsibility to make sure this house is not haunted?" Ferrall asked her husband, David, after seeing the sign.

"Because hauntings are like viruses — just because you don't have a virus one day, doesn't mean you won't have one the next day."
Though Ferrall's home at 1118 Crozet Street is not haunted, she says she does use her "energy clearing" techniques to "clean it up" between tenants. She says these techniques might involve bells, the use of a color that means something to the concerned client, and acoustic therapy to break up energy with dissonant sounds, and then send it on its way with countering harmonic rhythms.
But this isn't particular to this one property in particular. Ferrall views "energy clearing" as a regular part of home maintenance, and she believes it's worth it when multiple tenants go in and out of her property every few years.
"There is a lot of residual energy here — a lot of lives were lived here," she said. "And most of us are not super tidy about our energy."
The three-bedroom, two-bath home at 1118 Crozet Street in Crozet, Virginia, remains on the market for rent -- gorgeous mountain views, spacious yard, and zero ghosts included.
Have you ever lived in a haunted house? Share your story in the comments.
This quaint country church-turned-home should definitely not be haunted, either.