"The Perfect Valentine's Day Gift Guide: Weird Internet Edition" is your trusted source for finding Ted Bundy cuisine, AI boyfriends, and nose flutes for your special someone.
Are you Valentine's Day shopping already? Before we even begin to compose elaborate symphonies for our significant others, many of us must first attempt to get our finances in order so that we may appease the gods of consumerism by adequately rewarding our loved ones with useless gifts.
But let's be honest—you've been giving and receiving the same holiday gifts for years. Pink-knit sweaters? Bouquets of a scam called "flowers" that are actually free in the ground? Those discount Starbucks hot chocolate kits that come with an overpriced, very ordinary mug? No. Those are the gifts of the dull proletariat.
You, however, are an innovator. You deserve to impress your loved ones with these highly-sought-after items that will surely leave your friends and family indebted to you until the end of time, rendering them speechless, uttering in fragmented phrases, "I wish I were as skilled at giving gifts as you. You are a holiday miracle."
No more socks, cheap headphones, or candy hearts wrapped in sheer metallic paper this year. In fact, so many of our loved ones already own everything.
So here's the solution: they don't have these things.
Indeed. This year, it's time to change it up.
1. Last Meals Delivery Service

Courtesy of Victor Feguer
Forget HelloFresh. Delivery subscription services are totally hit-or-miss, but this one is sure to be a home run with Grandma. Last Meals Delivery service, the creation of a Toronto artist, has found a way to #disrupt the subscription delivery service game.
In brief, each meal you order comes with a randomly assigned criminal who faced death row, and you get to enjoy their last meal. Beyond the quality of its cuisine, each meal from Last Meals Delivery service really lets you connect with the serial killers, criminals, and convicted felons who ordered it as their final gustatory indulgence on death row. You also get a cardboard cutout of their head.

Courtesy of Traveler Daily
Check out this rave review of Last Meals Delivery cuisine from one customer:
"By now I'm sure you're all just frothy with anticipation as to which lucky (or unlucky) dead-guy I drew. His name was James Hudson Bryant (prisoner #924), convicted of killing 3 people in a dispute over a shared driveway. His last meal included a cheeseburger, a tossed salad, large fries with ketchup, a pile of saltines, an apple turnover and for some reason I can't really fathom, a pair of brand-new white tube socks. Everything tasted okay; it wasn't exactly home-made."
Price: $25 per death row meal

Courtesy of Tech.co
This product has been in my recommended ads for over a year. I have yet to purchase it, mainly because it's literally just a potato with Sharpie on it, which is something I'm pretty sure even I could accomplish, but nonetheless, my respect for its services is immeasurable. I am deeply delighted that this service exists, and you should be, too.
Do you have something to say, but don't know how to say it? Need to pop the question? Want to send your sister something that just says, "Congrats on the promotion," but fruit baskets are too cliche? Just send it on a potato. Yes, it's literally just Sharpie on a bare, uncooked, actual potato -- but what more do you need?
Apparently, this ... innovative business (first seen on Shark Tank and founded by Alex Craig) has already sold more than $40,000 worth of potatoes. You can view a gallery of memorable spud-based correspondence on the Potato Parcel website.
The company promises "100% laughter or confusion guaranteed."
Price: $12-16 per spud
Courtesy of Ikemeso Office
Speaking of excellent services, there is an actual service that will deliver you hot Japanese men to first make you cry, then wipe away your tears. Japanese ikemeso danshis, which roughly translates to "handsome weeping boys," are for-hire service providers that help people cry as a form of public therapy. The service was developed by Hiroki Terai, the Japanese businessperson also responsible for creating "public crying events" and releasing a photo book of attractive men crying.
Technically, this service is only offered in Japan, but this is still an important list item because let's be honest: this is the kind of gift all of us deserve.
Price: ¥7,900 yen (or $70 USD) per cry

Courtesy of Archie McPhee
So many uses for these, I don't even know where to start.
Price: $3-17
While this item doesn't look like much, its potential is truly limitless. Begin your career as a street musician just like the novels described. In case you were wondering how to operate this complex piece of equipment, have no fear: there is an instructional video on Youtube by two kindly gentlemen titled How to Play the Nose Flute 2.0. (Previously unsaid sentences in human history.)
Price: $1.79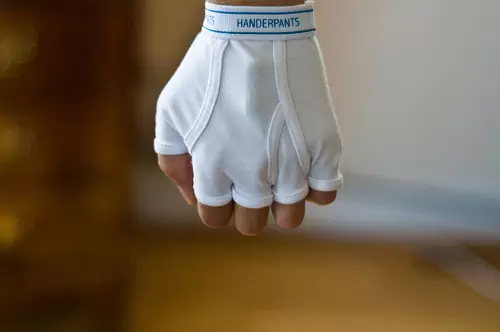 Courtesy of Handerpants
"Capitalism demands the best of [human progress]... It leaves every man free to choose the work he likes, to specialize in it, to trade his product for the products of others, and to go as far on the road of achievement as his ability and ambition will carry him." – Ayn Rand, foreseeing the innovation of Handerpants
Price: $9.95
This is a professional service for faking a relationship. The company website allows you to decide how you met, your mandatory characteristics, and then "Craft him now!" Don't worry: all your texting conversations with your Invisible Boyfriend are written by real writers. You can have a real, ongoing relationship journey with a boyfriend, minus the hassle: he is invisible!
For purely research purposes, I created my own invisible boyfriend named Adam. Apparently, we met at the post office. We had a really good thing going, until the website informed me I could purchase 200 texts and one handwritten note for $25 or 100 texts for $15. And I'm just, like ... not trying to do that.
Good concept, though, I guess? Maybe your friend is super lonely, or maybe her boyfriend sucks and you need to get her involved with a 100 percent fictional character. We don't judge. Invisible Boyfriend it is, yo.
Price: $24.99 per month of pure bliss
We hope you enjoy your Valentine's Day. If you have purchased any of these, or if you yourself personally own a photo or video of you playing the nose flute, please share photo documentation of this immediately. Happy purchasing.