There is nothing new under the sun.
From the 1918 Spanish flu to the polio pandemic, from Industrial London cholera outbreaks to Hong Kong's isolation due to SARS—quarantine anxiety is not new. Since time immemorial, we've been faced with disease; and since time immemorial, we've been writing letters anyway.
Quarantine, self-isolation, "lockdown"—will drive you mad. Surviving this phenomenon is complicated, but it's weirdly comforting to be reminded that your great-great-grandparents went through this, too, hated it, and watched the world be ravaged by pandemics, all while feeling a lot like you feel right now. Here's what they went through and how they coped with it, per excerpts from quarantine letters of history.
These excerpts from letters written during the 1918 Spanish flu pandemic echo emotions we're all experiencing during COVID-19 today—loneliness, panic, boredom, irritation, detached fascination, dark humor, and fear. While we feel, in this moment, historically special, these excerpts from 1918 might as well have been tweets from this morning.
I am going mad
"We were quarrentined (sic) on account of the Spanish Influenza and everyone is mad."

—"Maurice" to Prof. F. A. Harrington, Sept. 26, 1918 (Online Archive of California (OAC))
Life is a bit dull
"The influenza has all [events] most stoped (sic) in this camp. I guess the large cities are somewhat dull since the epidemic started."

—"B. J. Cappeggan" to Francis Murray, Oct. 21, 1918 (OAC)
Masks look funny
"It says in to-night's paper that to-morrow all Seattle will be wearing masks. No one will be allowed on a streetcar without one. Gee! People will look funny — like ghosts."

—"Vi Harris" to her diary, Oct. 28, 1918 (Elizabeth Weise Family Collection)
Cool. Hope she dies from it
"So everybody has the "Flu" at Heskell? I wish to goodness Miss Keck and Mrs. McK. would get it and die with it. Really, it would be such a good riddance, and not much lost either."

—"Lutiant" (Volunteer Nurse) to "Louise", Oct.17, 1918 (National Archives at Kansas City)
What am I going to do with myself?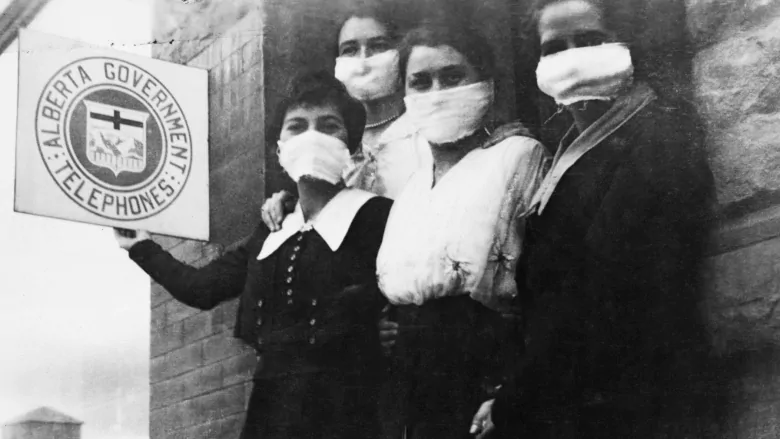 "They are talking of closing the schools on account of influenza[.] I hope they don't because I will not know what to do with myself."

—"Blanche H." to "Dear Friend Barbara", Oct. 8, 1918 (OAC)
Everything sure seems dead
"I suppose the picture shows and all places of amusement will open up next Sunday. everything sure seems dead. The "Flu" caused about five thousand deaths in this state. Myself, wife and baby all had it and I sure thought I was going to croak and the worst part was every body was so scared over it they would not go to see any one."

—"R. E. Hearn" to Cpl. Basil C. Thompson, Nov. 5, 1918 (OAC)
Wear a mask
"If you have not already taken such steps[,] strongly urge universal wearing of masks to prevent or check influenza epidemic. Cases here rose steadily from two hundred per day October Six to over two thousand October Twenty-fifth. On Twentieth, some our people wore masks, on Twenty-first on recommendation Health Board, Mayor [James] Rolph issued proclamation calling for everybody wearing masks. Nearly whole population complied... All agree masks largely responsible."

—"Edward Rainey" to Hon. Harvey Neilson, Oct. 31, 1918 (OAC)
It's foolish to stay open
"School has been closed 3 weeks, but think it will open Monday as we are to have Churches again. There has only been a few cases of flu here with one death.. but so many died in Tampa, some in Winter Haven too. This is the first week their school has been closed. I think they were foolish to keep open so long."

—"Ettie B." to Anna Roberts, Nov. 1, 1918 (OAC)
How are things going to go back to normal?
"We have been discussing the problem of how best to make up the five weeks lost at the time of the epidemic of influenza."

—"George L. Jones" [School District Official, in announcement], Dec. 12, 1918 (OAC)
Stay at home, Mama
"...the best thing you all could do would be stay on the farm until the Spanish Influenza has subsided"

—"Lambert" to "Mama", Oct. 15, 1918 (OAC)
No public meetings
"After to-night everything here will be quarantined, churches, schools, lodges, any public meeting place, on account of influenza, the whole state of Pa. is quarantined."

—"Florence and Oscar" to "Our Dear Folks", Oct. 14, 1918 (OAC)
Can I borrow your sweater once this is all over?
"It's perfectly alright about the sweater. I don't expect you to be able to get it while you are quarantined... However, send it whenever you find it convenient to do so, and I will settle with you as promptly as possible."

—"Lutiant" (Volunteer Nurse) to "Louise", Oct.17, 1918 (National Archives at Kansas City)
Time off work
"All the schools, churches, theaters, dancing halls, etc., are closed here too. There is a bill in the Senate totally authorizing all the war-workers to be released from work for the duration of this epidemic. It has not passed the house yet, but I can't help but hope that it does."

—"Lutiant" (Volunteer Nurse) to "Louise", Oct.17, 1918 (National Archives at Kansas City)
As schools are canceled, public gatherings are suspended, and much of the country is quarantined under stay-at-home orders, it can feel a little lonely to be isolated. Your great-great-grandparents shared your anxieties, frustrations, boredom, and fears. The world's not ending, and we're not alone. Even if we are "quarrentined (sic)" and "everyone is going mad."
---
Sources