A generic version of naloxone nasal spray, an antidote used to rapidly reverse fatal opiate overdoses, just got approved by the FDA.
On Friday, April 19, the U.S. Food and Drug Administration (FDA) released a statement announcing the approval of a generic version of the life-saving overdose antidote, naloxone nasal spray, for the first time.
The new generic produced by Teva Pharmaceuticals, an Israel-based generic drug company, will be significantly cheaper than existing incarnations of the drug.
This will make it cheaper for law enforcement agencies, hospitals, and community groups to stock large quantities of naloxone as needed.
"In addition to this approval of the first generic naloxone nasal spray, moving forward we will prioritize our review of generic drug applications for naloxone," said Douglas Throckmorton, M.D., deputy center director for regulatory programs at the FDA's Center for Drug Evaluation and Research.
"[T]hese efforts have the potential to put a vital tool for combatting opioid overdose in the hands of those who need it most – friends and families of opioid users, as well as first responders and community-based organizations," Throckmorton continued.
The Cost of an Antidote
(Courtesy of The Daily Beast/Photo Illustration by Kelly Caminero)
While naloxone has been off-patent since the 1980s, various companies have patented different versions of the drug. Kalea's Enzio, a branded injectable version of naloxone, now costs around $4,000 for each two-pack, an over-600 percent price boost since its introduction in 2014.
Adapt Pharma's Narcan nasal spray is considerably cheaper at $130, but Teva's new generic will be cheaper still.
Horrifically, the production cost of a two-pack of naloxone nasal spray is only a few cents, while production of Kalea's $4,000 auto-injectables costs around $20 to produce.
According to a recent investigative Senate report, the company's exorbitant up-charging of opiate antidote treatments has cost the federal government approximately $140 million in taxpayer funds. Kalea announced in December, after scrutiny, that it would release a more affordable version of the drug soon at the listing price of $178.
Teva has not announced the price of its generic naloxone yet.
Ironically, the inventor of naloxone, Jack Fishman, a Polish immigrant who fled the country before the Nazi invasion in the 1930s, never profited financially from the drug. After originally inventing naloxone while attempting to cure opioid-induced constipation during his time in a New York City lab, Fishman originally filed a patent. Once the patent expired, Fishman, as a young Polish immigrant, could not afford to renew it. His invention was quickly seized upon by pharmaceutical companies, who had ample resources to secure patents, and Fishman never saw any royalties. More than 40 years later, Fishman's stepson died of a heroin overdose.
Today, more than 130 Americans die from an opioid overdose every day.
Next Steps for the Opioid Crisis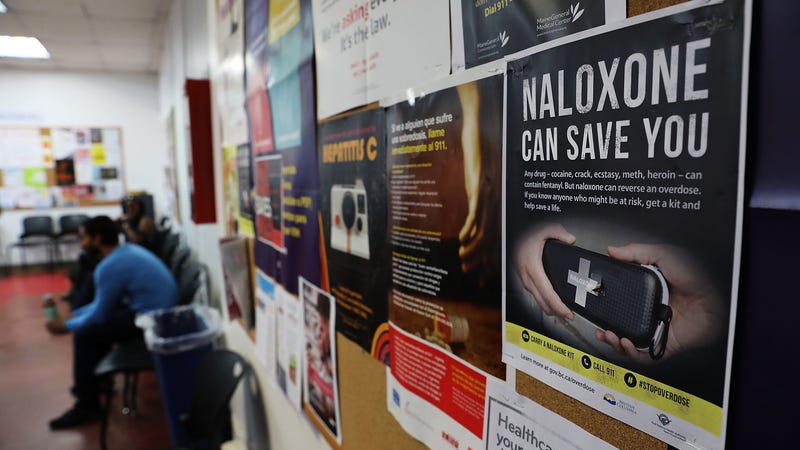 Courtesy of Spencer Platt/Getty Images
In the FDA statement, Throckmorton says the agency is also exploring ways of assisting manufacturers producing naloxone, as well as potential options enabling naloxone to be prescribed alongside opiate prescriptions that create the risk of overdose.
The generic will also be created with consumers in mind, as opposed to other versions of the drug designed for use by medically-trained professionals.
The statement continued to describe the value of naloxone:
When someone overdoses on an opioid, it can be difficult to revive the person to full consciousness, and breathing may become shallow or stop completely – leading to death without medical intervention.

If naloxone nasal spray is administered quickly, it can counter the overdose effects, usually within minutes.

However, it is important to note that it is not a substitute for immediate medical care, and the person administering naloxone nasal spray should seek further immediate medical attention on the patient's behalf.
* * * *
If you think you or a friend might be struggling with opioid addiction, don't be afraid to reach out for help. The following are free, anonymous resources you can contact to get help, talk to someone, and even get referrals to affordable treatment options.
Addiction Hotlines
SAMHSA National Helpline 1-800-662-HELP (4357) is a free, confidential, 24/7, 365/day-a-year treatment referral and information service (in English and Spanish) for individuals and families facing mental and/or substance use disorders. An online treatment locator is also available.
Helpline number 1-800-487-4889 is available to people with hearing impairment for information on substance abuse 24 hours a day.
The Partnership for a Drug-Free America runs a drug hotline for parents 1-855-DRUG-FREE (378-4373) during business hours.
The National Council on Alcoholism and Drug Dependence Hope Line 1-800-NCA-CALL (622-2255) for help finding affiliate programs nationwide.
Overdose Hotlines
In case of emergency or potential overdose, a free addiction counseling hotline is not equipped to help. Addicts or friends in emergency situations should call 911 in the United States.
The National Poison Control Center can be reached at 1-800-222-1222 for free, confidential information from specialists on poisons including drug overdose.
1-800-999-9999 is a National Directory of drug abuse hotline numbers and crisis intervention centers.