The Pepsi Center is embracing the importance of rideshare with an all-new pickup and dropoff process.
Avalanche, Nuggets, or your favorite band. All of these activities go down at the Pepsi Center, but all of them can also be a zoo when trying to leave. The light rail stop nearby is great, but only if you live near one of the stops. Improving the rideshare pickup and dropoff process is essential now that Uber and Lyft have become the preferred method of transportation for partygoers.
Copper Circle, located right in front of the venue, will still be open before the event starts. However, barriers will be placed to prevent any through-traffic to the circle about halfway through each event -- specifically, at the start of the second period for the Avalanche, halftime for Denver Nuggets, and main act for concerts and other events.
At this point, anyone utilizing rideshare will be expected to use the locations designated below.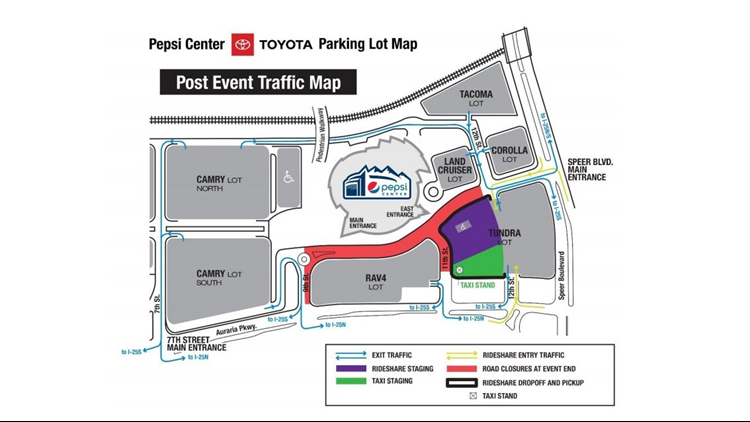 Courtesy of Kroenke Sports and Entertainment
The new pickup and dropoff area will be located at the Tundra Lot, as seen above. Taxis will use the green area and the ridesharing location is the purple area.
The changes are being made to increase safety for people leaving the arena. It is also believed that the flow of traffic will be more efficient as well.
Per the Pepsi Center website, "KSE's top priority is the safety of our fans," said KSE's SVP of Venue Operations Dave Jolette. "With the growth of rideshare usage by our fans, an organized location that can handle the volume of customers is vital to providing a secure pickup system that will enhance the overall fan experience at Pepsi Center."
The new process began on September 18 during the Colorado Avalanche vs. Vegas Golden Knights preseason game.
What do you think? Will this new mode of transportation help the congestion we've seen at the Pepsi Center? Let us know in the comments below.
Tarantulas are taking over southeastern Colorado, and we should just accept it.