Get away from the crowds and familiarize yourself with the best small town in each state.
The current moment hasn't been ideal for traveling. But with restrictions loosening and summer upon us, it might be time to plan a little getaway (or at least take a virtual vacation). Big destinations like New York, Los Angeles, Orlando, and D.C. are classic but crowded—Why not get familiar with some idyllic small towns that stitch America together?
Pulling from travel sources like Far & Wide, U.S. News & World Report, Reader's Digest, Architectural Digest, The Travel Channel, and House Beautiful magazine, here's a list of the most charming smalls town in each state.
Alabama: Magnolia Springs
Courtesy Wikimedia Commons
Along the Magnolia River and minutes from Mobile, Alabama, lies this sleepy town of oak trees, azaleas, wisteria, dogwoods, and magnolia trees.
Alaska: Sitka
Courtesy Getty Images
Near the state capital, this cozy port town is a popular stop for cruise lines taking the Inner Passage. Features a wine bar, a brewery, and an independent bookstore.
Arizona: Sedona
Courtesy Getty Images
There's amazing hiking with red-rock backdrops, the Coconino National Forest, and a thriving art community—and all a stone's throw from the Grand Canyon.
Arkansas: Eureka Springs
Courtesy Wikimedia Commons
It's not just a quaint name—relaxing natural hot springs coexist with public bathhouses that have existed since the Victorian days.
California: Carmel-by-the-Sea
Courtesy Getty Images
A one-square-mile town with excellent shopping, model-like houses, and equally-charming neighbor towns.
Colorado: Breckenridge
Courtesy Good Free Photos
Go in winter for a skiing adventure, in fall to see the leaves change, or summer for mountain hiking in the cool air. Or check out the Victorian mining area.
Connecticut: Mystic
Courtesy Flickr
There's an aquarium of 10,000 sea creatures! Or visit the historic downtown, arts center, nature center, or seaport museum.
Delaware: New Castle
Courtesy National Park Service
New Castle is one of the oldest continuously-inhabited towns in the U.S.—some of its buildings have stood since the early 1700s.
Florida: Sanibel Island
Courtesy Getty Images
Sanibel is 12 miles long and 3 miles wide, with shell-strewn beaches and wildlife refuges.
Georgia: Dahlonega
Courtesy Wikimedia Commons
Visitors can check out the Gold Museum, explore numerous gold mines, and pan for gold. Then refresh at the shops, restaurants, and wineries.
Hawaii: Hanalei
Courtesy Getty Images
Famously featured in the film South Pacific, the Hanalei Bay shelters the quiet Hanalei Town and its beaches, mountains, and relaxed culture.
Idaho: Ketchum
Courtesy Getty Images
In central Idaho, you'll find the Sun Valley Ski Resort, and below it Ketchum. Stay for the art, ski shops, and amenities.
Illinois: Galena
Courtesy Wikimedia Commons
Ulysses S. Grant lived here in 1860, and Galena preserves many such early-1800s buildings in its rolling northwest hills.
Indiana: Nashville
Courtesy Wikimedia Commons
This isn't Tennessee's Nashville. The artist T.C. Steele lived here, and visitors see his Impressionist art at his home and gardens.
Iowa: Winterset
Courtesy Wikimedia Commons
Like bridges? The iconic bridge featured in The Bridges of Madison County crouches comfortably in Winterset.
Kansas: Abilene
Courtesy Getty Images
Dwight D. Eisenhower spent many years and was buried here, and Abilene now houses his excellent presidential library and museum.
Kentucky: Grand Rivers
Courtesy Wikimedia Commons
Nicknamed "The Village Between the Lakes" for its massive man-made lake-neighbors, Grand Rivers is the place you should come for sailing, canoeing, fishing, swimming, and more.
Louisiana: St. Francisville
Courtesy Getty Images
North of Baton Rouge hums this town of festivals, literary events, and the Audubon Pilgrimage.
Maine: Bar Harbor
Courtesy Getty Images
Bar Harbor is the only town in the U.S. located inside of a major national park. Bar Harbor might be as pretty as the Acadia National Park it hides within.
Maryland: Ocean City
Courtesy Getty Images
Check out the wooden beach boardwalk dating back to the mid-1800s!
Massachusetts: Edgartown
Courtesy Getty Images
Edgartown is accessed via a ferry for those seeking the sailboats, beach cottages, Victorian-styled resorts, and scenic beaches.
Michigan: Traverse City
Courtesy Getty Images
Even though it's not so small anymore, festivals like the National Cherry Festival keep Traverse City feeling like a small town at heart.
Minnesota: Grand Marais
Courtesy Getty Images
The Great Lakes call! With Lake Superior on one side and the Superior National Forest on the other, Grand Marais is a secluded natural getaway.
Mississippi: New Albany
Courtesy Wikimedia Commons
New Albany used to be a mill town in the 1800s, but now you can hike along the river or use the amazing 44-mile biking trail.
Missouri: Weston
Courtesy Wikimedia Commons
Nestled along the Missouri River, Weston hosts many wineries, distilleries, pubs, and history—like when Lewis and Clark stopped by as they explored.
Montana: Whitefish
Courtesy Getty Images
A resort town in winter, or water sports and outdoorsing in summer—Whitefish makes the Rockies look good.
Nebraska: Nebraska City
Courtesy Flickr
Nebraska City used to be the home of J. Sterling Morton, the founder of Arbor Day. Now there's a 65-acre museum with an arboretum.
Nevada: Genoa
Courtesy Getty Images
Near Lake Tahoe, Genoa used to be a trading-post town along the California Trail. Now there are picturesque trails!
New Hampshire: Meredith
Courtesy Getty Images
"Lake Winni" has 71 square miles of boating and swimming fun, surrounded by the ever-changing New England foliage.
New Jersey: Cape May
Courtesy Getty Images
Nah, not Jersey Shore that MTV put forward. This Victorian seaside town is woven through with dignity, charm, and peace.
New Mexico: Taos
Courtesy Wikimedia Commons
Adobe buildings full of museums and art galleries? Sign me up!
New York: Cooperstown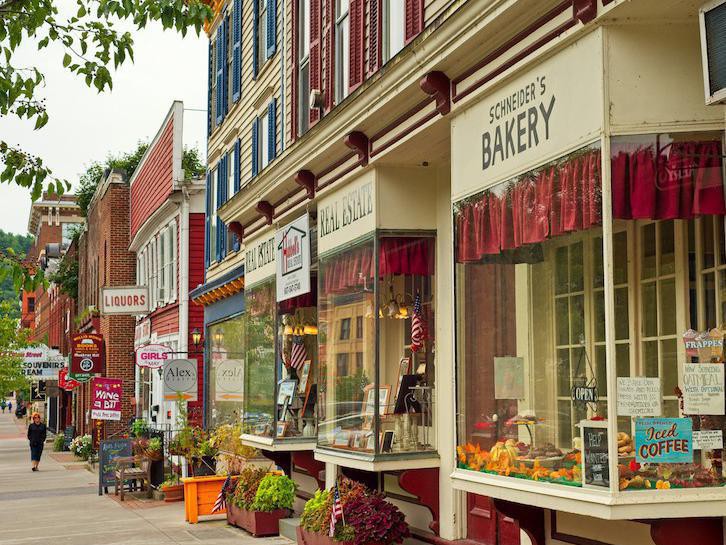 Courtesy Getty Images
What is more American than baseball? How about the small town that is home to the National Baseball Hall of Fame?
Found at the lower tip of Otsego Lake, this cheerful village is lined with quaint shops, restaurants, art galleries and museums, farming, and of course, baseball.
North Carolina: Ocracoke Island
Courtesy Getty Images.
Though small, the island was home to the famous Sir Walter Raleigh in the late 1500s and the infamous Blackbeard in the 1700s.
North Dakota: Garrison
Courtesy Flickr
How much do you love fishing? Fishing is so popular in Garrison that the Governor's Walleye Cup tournament prize is $15,000.
Ohio: Marietta
Courtesy Getty Images
Marietta maintains a number of museums like the Mound Cemetery, the final resting place for heroes of the American Revolution.
Oklahoma: Davis
Courtesy Needpix
Here rumbles one of the tallest waterfalls in the state, Turner Falls. The swimming hole beneath it is open to the public.
Oregon: Cannon Beach
Courtesy Getty Images
You've probably seen it in photos—that's Haystack Rock, towering over the smooth Cannon Beach.
Pennsylvania: Jim Thorpe
Courtesy Getty Images
In 1954, the town of Bear Mountain became the town of Jim Thorpe to honor the Olympic Native American athlete buried there. Today, it's a scenic spot for shops, good eats, and festivals.
Rhode Island: Bristol
Courtesy Wikimedia Commons
Ship-shape and Bristol-fashion! Here you'll find the longest-running Independence Day Parade.
South Carolina: Beaufort
Courtesy Getty Images
Though its neighbor sea islands are inviting, Beaufort's downtown district is chock-full of imposing antebellum mansions fenced by streets lined with palm-trees.
South Dakota: Spearfish
Courtesy Getty Images
There's year-round recreation in Spearfish. Any sort of outdoor activity can be found there, and lively college students from Black Hills State University ensure the town is lively and energetic.
Tennessee: Gatlinburg
Courtesy Getty Images
Ever been up a ski-lift in the Great Smoky Mountains? I'd bet it's worth doing.
Texas: Marfa
Courtesy Getty Images
Marfa has been called an "art oasis." On the outskirts of town is a platform for taking in mysterious orbs that light up the night sky, known as the Marfa Lights—which has been great inspiration for the stellar contemporary art centers and galleries.
Utah: Moab
Courtesy Getty Images
Moab's got a killer biking scene. What's more, the town is a bike ride away from two national parks: Arches and Canyonlands.
Vermont: Stowe
Courtesy Getty Images
Rated as one of the best ski resorts and villages in New England, the air is so clear you can see Canada, New York, and New Hampshire from Mount Mansfield on a clear day.
Virginia: Williamsburg
Courtesy Getty Images
Williamsburg was both colony and capital of Virginia from 1699 to 1780. It endures as a portal to the past, a real living museum you can walk through.
Washington: Friday Harbor
Courtesy Getty Images
TGIF, amirite? The spirit of the weekend permeates Washington's best-kept secret. See marine life like orcas, seals, and sea lions before visiting boutiques, art galleries, and restaurants.
West Virginia: Berkeley Springs
Courtesy Getty Images
In the 1700s, Berkeley Springs was simply called "Bath" for its natural hot springs. George Washington famously loved the baths—there's even a presidential bathtub monument!
Wisconsin: Mineral Point
Courtesy Getty Images
The name kind of gives it away, but Mineral Point is a former mining town, which means history like the Pendarvis mining site and the Mineral Point Railroad Museum.
Wyoming: Jackson
Courtesy Getty Images
This picture makes my insides hurt, it's so pretty. Here you'll find the highest vertical ski slopes in the U.S., the Snake River Valley town square, and herds of elk and moose just milling about. You're also an easy drive from both Yellowstone National Park and Grand Teton National Park.
And that's the list! How many have you been to? Which sounds like the best to visit? Comment and let us know!