Who knew #ThrowbackThursday could be so therapeutic?
Let's face it—the year 2020 has been a stressful one, to say the least. We aren't even close to finishing the year, and so far, we've had a pandemic, an incredible fight for justice, a foreign bee killer, and a devastating explosion. But, we can look to pop culture from the past as a way to feel better about today.
Jurassic Park makes a comeback:
Welcome to Jurassic Park! The original film is back in theaters on the big screen 7/14 & 7/17: https://t.co/HEr1vFsoXn. pic.twitter.com/iAL84YjpRx

— Jurassic World (@JurassicWorld) July 13, 2019
Courtesy of Jurassic Park's Twitter
This 1993 Stephen Spielberg classic was a box office success when it first debuted, garnering $50 million in its opening weekend, and it was one of the first to incorporate a lot of CGI into an action film. It's evident that Jurassic Park is still a beloved movie because this year's reissue earned $858,600 in sales. It's also one of the most-watched films or TV shows to come to Netflix.
A new generation is introduced to Phil Collins:
Phil Collins' 'In the Air Tonight' Is a Sales Hit Again After 39 Years, Thanks to Twins' Reaction Video https://t.co/xfXaOq1z54

— Variety (@Variety) August 10, 2020
Courtesy of Variety's Twitter
Two twin YouTubers, Tim and Fred Williams, went viral after filming their reactions to Phil Collins' 1981 hit, "In the Air Tonight." These Gen Z'ers are thought to be behind the sudden resurgence pushing Phil Collins' hit back to No. 2 on iTunes. Their video currently has almost six million views.
Sister, Sister takes us back to the '90s:
Courtesy of Sister, Sister's Facebook
Netflix recently announced that the '90s sitcom, Sister, Sister, will release to subscribers on September 1. We're excited to binge-watch one of our favorite '90s shows staring Tia and Tamara Mowry. The show centers on twin sisters who find each other by happenstance and includes many family themes such as adoption, divorce, dating, break-ups, and getting first jobs.
Dirty Dancing gets a sequel: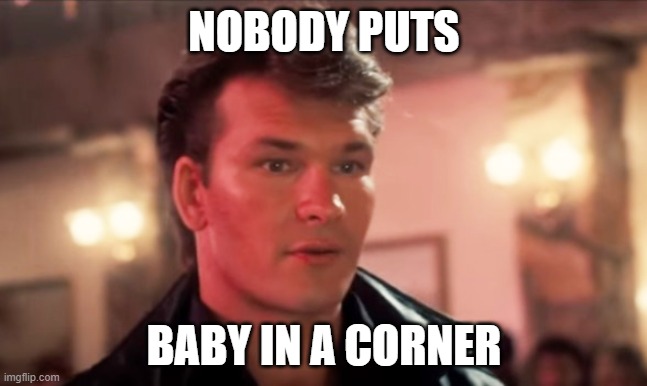 Courtesy of Imgflip
This year, Lionsgate CEO Jon Feltheimer confirmed rumors that Dirty Dancing is getting a sequel!
"It will be exactly the kind of romantic, nostalgic movie that the franchise's fans have been waiting for," he reportedly said.
The '80s original starred Jennifer Grey and Patrick Swayze, and the sequel will have Grey as an executive producer.
Even Gen Z artists are in a nostalgic mood:
Courtesy of Dua Lipa's Instagram
Dua Lipa is a British pop star that also has a huge Gen Z following in the United States. Her 2020 album, Future Nostalgia, perfectly captures her musical style containing modern beats with nods to the past. Even the music video release of "Break My Heart" features the iconic Clueless movie outfits, equipped with plaid miniskirts and hair scrunchies.
See? Who said pop culture nostalgia was all that bad? Now the next time your family complains that you've watched too many episodes of The Bachelor, you can just tell them you're making time for self-care.
What's your favorite pop culture from the past? Let us know in the comments!